Aktuelle News & Schlagzeilen
DAS Audio loudspeakers invigorate services at Epic Church International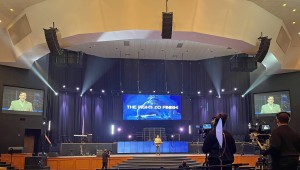 Officials of Epic Church International in Sayreville, New Jersey elected to upgrade the sound reinforcement facilities in their sanctuary. This ultimately led to the installation of loudspeakers from the Aero Series catalog of DAS Audio.
Advanced Audio of New York, an AV design/build firm that, in addition to its installation business, operates an event sound services division, was contracted to design and deploy the new sound system at Epic Church.
After consulting with church management, Burton A. Ishmael, Advanced Audio's owner/operator and chief systems designer, penned a system consisting of DAS Audio Aero-20A compact line array enclosures plus UX-218A and UX-221A powered subwoofers.
"The sanctuary is fan shaped and includes a wrap-around (180-degree) balcony. The space measures 150 feet at the maximum spread and the length of the space is 120 feet, with a ceiling height of 40 feet", says Ishmael. "Seating is fixed and cushioned, and the room's capacity is approximately 2,300 people. Services at Epic Church are contemporary in nature and there are both a praise team of vocalists as well as a full instrumental backup band. Because of this, it was crucial for the new sound system to deliver the full frequency spectrum as well as consistent frequency response with sufficient SPL throughout the space. Further, the ability to control and monitor the loudspeaker system at FOH was a requirement."
To address these requirements, Ishmael and his team deployed three main loudspeaker clusters - left, center, right - with each cluster consisting of six DAS Aero-20A enclosures. Further out into the room, there are also two delay loudspeaker clusters for the left- and right-side balcony area - each consisting of four Aero-20A enclosures.
For low frequency support, the Advanced Audio team flew eight DAS UX-218A subwoofers - four each for the left and right sides, behind the left and right Aero-20A clusters. There are also four UX-221A ultra low frequency subwoofers. These are ground stacked in front of the stage, two enclosures each for the left and right sides. DAS Audio's DASnet audio management software took care of the networking and monitoring of all components in the system.
(Photo: DAS Audio)
© 1999 - 2021 Entertainment Technology Press Limited News Stories