Aktuelle News & Schlagzeilen
Elation lighting for new school auditorium in Costa Rica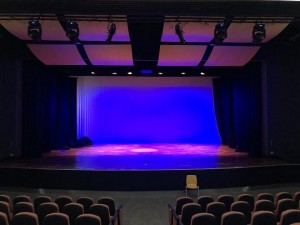 Colegio Humboldt is an international school in San José, Costa Rica, that serves preschool through secondary students. The school recently built a new performing arts space to further its program, Auditorio Humboldt, a multi-purpose auditorium outfitted with Elation Professional luminaires.
Auditorio Humboldt is a 238-capacity space where students conduct recitals and perform all manner of dance, music, theatre and debate. It houses audiovisual equipment with specialized technical personnel to provide support. Elation dealer and distributor for Costa Rica, Darko Lighting of San José, completed the lighting project.
They supplied, designed and installed new stage and architectural lighting systems for the auditorium, along with a decorative stretched ceiling, working in cooperation with architectural company Rojas Arquitectos.
The auditorium's new stage lighting system includes 16 Fuze PAR Z175 fixtures which work with 16 Colour 5 Profiles. The system also includes four moving heads, Fuze Wash Z350s. Elation's E-Fly wireless DMX Transceiver is used for setup and programming. Lighting control is from a tabletop Elation Show Designer 2CF stage lighting controller. Associate Director of Darko Lighting, Gabriel Zalkindas Jarovisky, specified the lighting system for the auditorium.
© 1999 - 2020 Entertainment Technology Press Limited News Stories