Aktuelle News & Schlagzeilen
Church of the Presentation upgrades sound system with Powersoft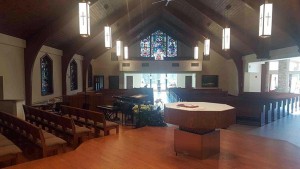 The fully renovated Church of the Presentation in Upper Saddle River, New Jersey, installed a new sound system which is powered by Powersoft Quattrocanali 1204 amplifier platforms.
"The church, having a rectangular shape, has different acoustics when the moveable wall is there than it has when the wall is not there," says Steve Minozzi, co-owner of Monte Bros., the Westchester, New York-based audio systems design and integration firm that performed the installation.
"When the church and the auditorium are together, the sound system requires a whole different configuration of time alignment and EQ, because the two discreet spaces have different acoustical properties."
Monte Bros. designed a hybrid point-source/distributed speaker sound system for each of the possible configurations distributed to over 12 zones, using an estimated 15,000 feet of cable wire. Using three Powersoft Quattrocanali 1204 four-channel amplifier platforms, Monte Bros. powered each zone with one discreet channel per zone.
Monte Bros. partnered with Powersoft to develop a technology to be able to use the integrator's proprietary monitoring system in Church of the Presentation, and to have the ability to offer it to other houses of worship in future installations.
"Ubiquiti Networks Secure Remote Access System is an intellectual property that our technicians developed because we've done work for the NYPD since 1995," Minozzi explains. "After 9/11, we were commissioned to build an independent communications network that couldn't be taken down if something like that ever happened again. And it required that, at every precinct, if anything became disconnected we would be notified."
The Ubiquiti network security feature - which Powersoft is currently fine-tuning for future Monte Bros. house-of-worship installations using Quattrocanali amplifier platforms - will also allow audio streaming of church services through the Ubiquiti cloud.
© 1999 - 2019 Entertainment Technology Press Limited News Stories