Aktuelle News & Schlagzeilen
Adlib supplies lighting and sound equipment for Ray LaMontagne's acoustic tour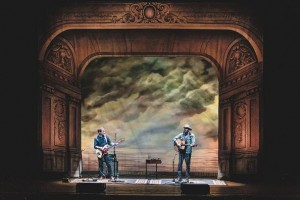 Liverpool UK based rental and production specialist Adlib supplied lighting and sound equipment and crew to the recent "Just Passing Through" acoustic tour by American singer/songwriter Ray LaMontagne.
The production team was led by production manager Mark Jones. Adlib provided an L-Acoustics K2 sound system with system tech Mike Thorpe and the lighting rig was looked after by Adlib's Kevin Byatt. The K2 was driven by L-Acoustics 12XT amps.
The venues were a mix of theatres and Apollo style rooms, with some of the theatre venues having three balconies. The average setup featured 10 or 12 x K2 elements flown left and right, with two KS28 subs a side on the ground, together with some Kara and Arcs which were used as front and side fillers primarily for the stalls downstairs.
Each day they used Soundvision plus all the tools in the L-Acoustics Network Manager software to analyse and tweak the system for the space and optimise the design. Ray LaMontagne's FOH engineer Ryan Pickett specified an Avid Profile console, while monitor engineer Rob Elliot used a DiGiCo SD12. LaMontagne was joined onstage only by Wilco bassist Jon Stirratt, and both artists utilised Sennheiser IEMs.
A couple of Summit DCL200 compressors were used as well, one across LaMontagne's acoustic guitar and vocal and the other for Siratt's backing vocals and fender Mustang bass guitar. He chose a Smart C2 stereo compressor for the mix bus which provided the final stage of levelling on the mix. He also used the Rupert Neve 5045 primary source enhancers on the lead and background vocals, plus a Mercury M7 reverb pedal on both of the lead vocals.
The lighting design was comprised of three layers with a downstage portal acting as a proscenium to help draw the audience in and towards the two performers in the centre, particularly when they were playing large rooms with their own large architectural prosceniums. Their own proscenium was a hand-painted muslin drop giving an illusion of depth with a cut-out portal.
Upstage of that was a hand painted cloud/sun ray scrim, and the third layer was a muslin backdrop painted with clouds giving the impression of a recent sunset over the ocean. All of this was drawn by scenic artist Valerie Light based on art direction from Jeremy and Ray LaMontagne himself. The fabrics and surfaces were sourced from Rose Brand and hand painted by Cobalt Studios and Infinite Scenic.
While the set remained physically static throughout the show, the lighting transformed the look of the space from song to song. Moving light fixtures - 4 x Robe BMFL Spots and 4 x Martin MAC Quantum Washes - were concealed behind the portal and downstage legs and used to project custom gobo patterns onto the scrim and backdrop. Other fixtures on the rig were: 8 x MAC Aura LED washes, a Claypaky Mythos2 and two GLP X4 Bar 20s.
© 1999 - 2019 Entertainment Technology Press Limited News Stories