Aktuelle News & Schlagzeilen
HSL appoints two new theatre specialists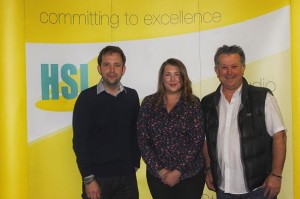 HSL continues to strengthen its Theatre and Performing Arts division with the appointment of Ben Payne as Key Account Manager (Theatre) and Jo Sunners as Business Development Manager (Theatre). Both joined HSL after working together for 18 months at a previous rental and production company. They are be based in London and the scope of their work at HSL will focus on supporting and developing this specialist sector.
Ben Payne came to HSL with 15 years theatre touring experience which has included lighting and tech'ing shows worldwide. Jo Sunners graduated from the Rose Bruford College of Theatre and Performance with a degree in Lighting Design. Since then she worked for several companies in a number of different roles. For the last 12 months Sunners has been concentrating her time on client-focused account management and business development.
Photo (left to right): Ben Payne, Jo Sunners and HSL MD Simon Stuart.
© 1999 - 2019 Entertainment Technology Press Limited News Stories